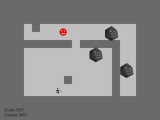 Run From the Rocks
Recent updates
Run From the Rocks was last updated on 14-07-2006 to v2.1
Introduction
Run From the Rocks evolved from an experiment trying to get Game Maker to make objects follow other objects dynamically. But it soon turned into a game that is as fun and challenging to play as it was to make.
In the game, you have to run away from the rocks and get to the finish flag in all of the levels after the first one. In the first level, you have to stay alive until the counter reaches zero.
During the game, you should find blue squares with a key on them. These are locked doors. You need to collect the key before you are able to open them. When you have the key, run into doors to open them. Each key is a master key, and it can open every door in the level.
Run From the Rocks was made to be challenging. If you are stuck on a level, you may skip to the next level by pressing the "Home" key on your keyboard. Your score starts at 4000 and goes down as you play - The longer you take to win the game, the less your score will be. If you run into a rock, you explode and die, having to restart the game. If you die, you can get back to where you were up to by pressing the "Home" button on your keyboard as many times as needed.
All my games are freeware so please feel free to give them to all of your friends!
Enjoy!